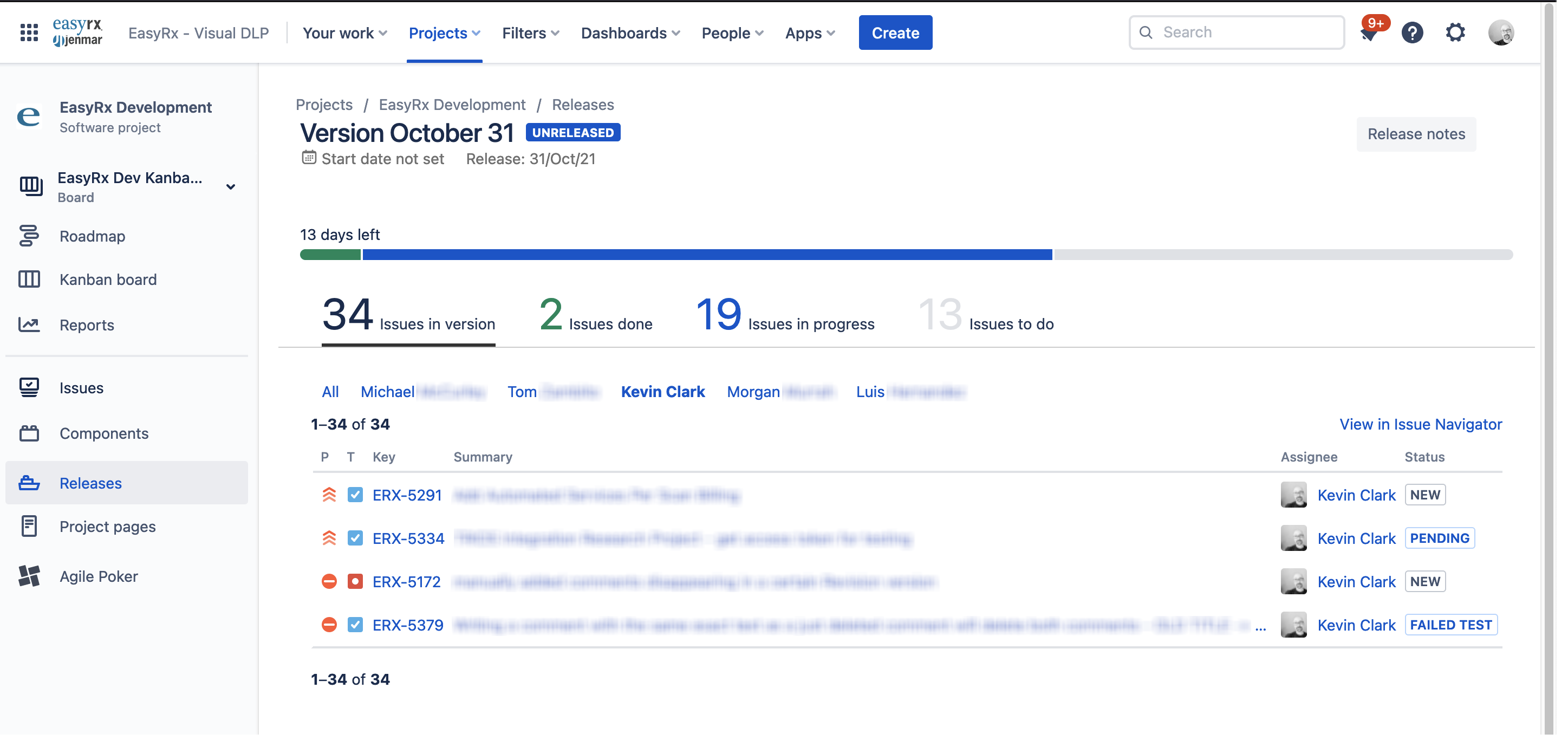 Tampermonkey is s superscript manager that allows you to write and run javascript code on specific domains/pages/paths.
It's pretty handy to alter a site you use with your niche wants.
Here's the GitHub repo which may get updates sooner than this blog post: https://github.com/thisbailiwick/jira-release-table-filtering-and-sorting
Needed
Installation
Add Tampermonkey to whichever browser you use. Here's a video of how to install and use Tampermonkey: https://youtu.be/8tyjJD65zws
Copy and paste the below code into a new script.
Replace your-subdomain and your-project-name in the superscript config line:
// @match https://your-subdomain.atlassian.net/projects/your-project-name/versions/*
Replace your-assigne-column-name on this line var mainUser = 'your-assigne-column-name'; with the exact text of the label in the Assignee column.

Save the script and reload your Jira release page.
Caveats
The table sorting will not work if you click between the below links. You can refresh the page to get it working.


UserScript
// ==UserScript==
// @name         Jira Release filter by name and simple column sort
// @namespace    JiraFilterByNameAndColumnSort
// @version      1.0
// @description  filter release rows by name and sort by column
// @author       Kevin Clark
// @match        https://your-subdomain.atlassian.net/projects/your-project-name/versions/*
// @require      https://cdnjs.cloudflare.com/ajax/libs/tablesort/5.2.1/tablesort.min.js
// ==/UserScript==
(function () {
  'use strict';

  var mainUser = 'your-assigne-column-name';
  var userRows = [];

  function hidePastSelected(currentName) {
    document.querySelectorAll('.name-filter.selected:not([data-name="' + currentName + '"])')?.forEach(function (link) {
      link.classList.remove('selected');
    });
  }

  function showAll() {
    hidePastSelected('All');

    userRows.forEach(function (user) {
      var wrappingElement = user.parentElement.parentElement.parentElement;
      wrappingElement.classList.remove('hide');
      wrappingElement.setAttribute('style', 'display: table-row');
    });
  }

  function hideOthers(currentName) {

    hidePastSelected(currentName);

    userRows.forEach(function (user) {
      var wrappingElement = user.parentElement.parentElement.parentElement;

      if (user.innerText !== currentName) {
        wrappingElement.classList.add('hide');
        wrappingElement.setAttribute('style', 'display: none');

      } else {
        wrappingElement.classList.remove('hide');
        wrappingElement.setAttribute('style', 'display: table-row');
      }
    });
  }

  function filterRows() {
    userRows = document.querySelectorAll('.release-report-issues .assignee span a');
    var names = [];

    userRows.forEach(function (user) {
      var name = user.innerText;

      if (!names.includes(name)) {
        names.push(name);
      }

      if (user.innerText !== mainUser) {
        var wrappingElement = user.parentElement.parentElement.parentElement;
        wrappingElement.classList.add('hide');
        wrappingElement.setAttribute('style', 'display: none');
      }
    });
    var styles = `
        .name-filters span{
          display: inline-block;
          margin: 0 10px;
          color: #0052cc;
        }

        .name-filters:hover{
            cursor: pointer;
        }

        .name-filter.selected{
          font-weight: bold;
        }
    `;
    var linkElement = document.createElement('link');
    linkElement.setAttribute('rel', 'stylesheet');
    linkElement.setAttribute('type', 'text/css');
    linkElement.setAttribute('href', 'data:text/css;charset=UTF-8,' + encodeURIComponent(styles));

    var namesLinks = '<div class="name-filters">';
    namesLinks += '<span class="name-filter" data-name="All">All</span>';

    names.forEach(function (name) {
      namesLinks += '<span class="name-filter" data-name="' + name + '">' + name + '</span>';
    });
    namesLinks += '</div>';

    var contentWrap = document.querySelector('#release-report-tab-body-content .issue-list-header');
    contentWrap.insertAdjacentHTML('beforebegin', namesLinks);
    contentWrap.insertBefore(linkElement, contentWrap.firstChild);

    var links = document.querySelectorAll('.name-filters span');

    links.forEach(function (link) {

      link.addEventListener('click', function () {
        var name = this.innerText;
        this.classList.add('selected');
        name === 'All' ? showAll() : hideOthers(name);
      });

      if (link.getAttribute('data-name') === mainUser) {
        link.classList.add('selected');
      }
    });
  }

  new Tablesort(document.querySelector('#release-report-tab-body-content .issue-list-panel>.aui'));
  filterRows();

  const observer = new MutationObserver(function (mutations_list) {

    mutations_list.forEach(function (mutation) {

      mutation.addedNodes.forEach(function (added_node) {

        if (added_node.classList.contains('issue-list-panel')) {
          filterRows();
        }
      });
    });
  });

  observer.observe(document.querySelector("#release-report-tab-body-content"), {childList: true});
})();